THE BEAUTY OF SCIENCE is a new headquarters for Company S, a global brand silicone distributor located in Seogyo-dong, Mapo-gu, Seoul. The project's design was influenced by the unique characteristics of the client and the site conditions, particularly the Hongik University Area. The client requested a plan that would provide ample parking for at least 8 vehicles for the sales depatment without any inconvenience.

DESIGN TACTIC

The design process was approached like a scientific experiment, with the client viewed as a "salesman-scientist." SS2, the design team, set the highest control variable as parking convenience and added secondary variables one by one, including the utilization of internal and external space on the first floor, the efficiency of internal circulation according to the location of the core, the ease of entering the workspace, and the arrangement of the program. The design options were analyzed using a radar chart.
To combat height restrictions, SS2 placed numerous windows in buildings with low floor heights, bringing in the vista and creating a sense of openness. Aluminum louvers were also installed to control the amount of insolation and visually shield the building. Balconies and verandas on each floor, along with windows, were included to maximize natural ventilation. The laboratory was located on the top floor facing north, opening towards the street and controlling insolation. The ground floor is planned as a lobby but can be used as a parking space by opening it widely, providing a total of 9 parking spaces.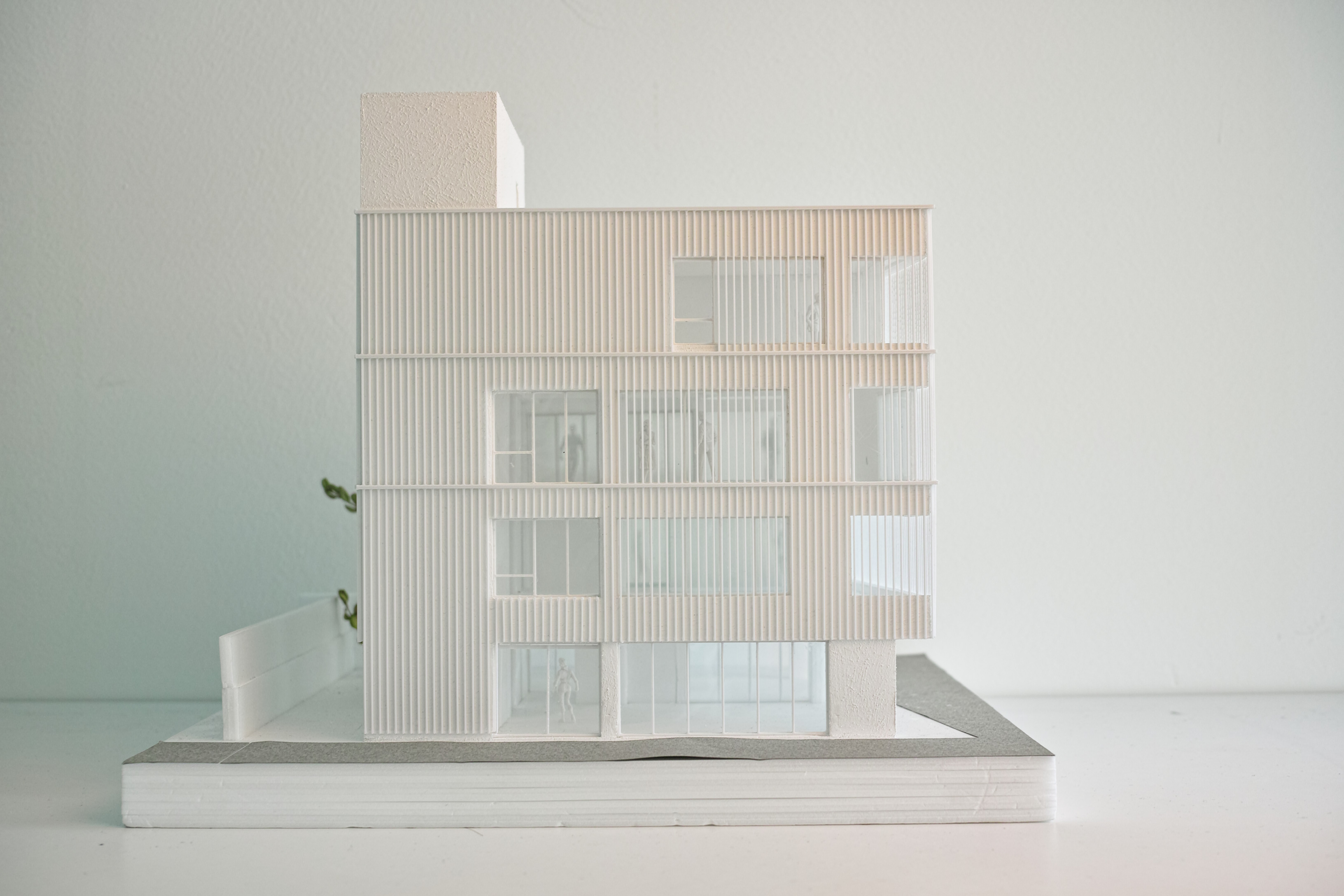 CUSTOMIZED LOUVER ASSEMBLY DETAIL
In SS2's fabrication lab, life-sized mock-up tests were performed with 3D printers and CNC machines, and the louver cross-section and bonding details were tested. In the field, the louvers were assembled as unit modules without caulking joint. All internal walls except for the concrete core are dry walls to accelerate construction and facilitate internal layout changes in the future.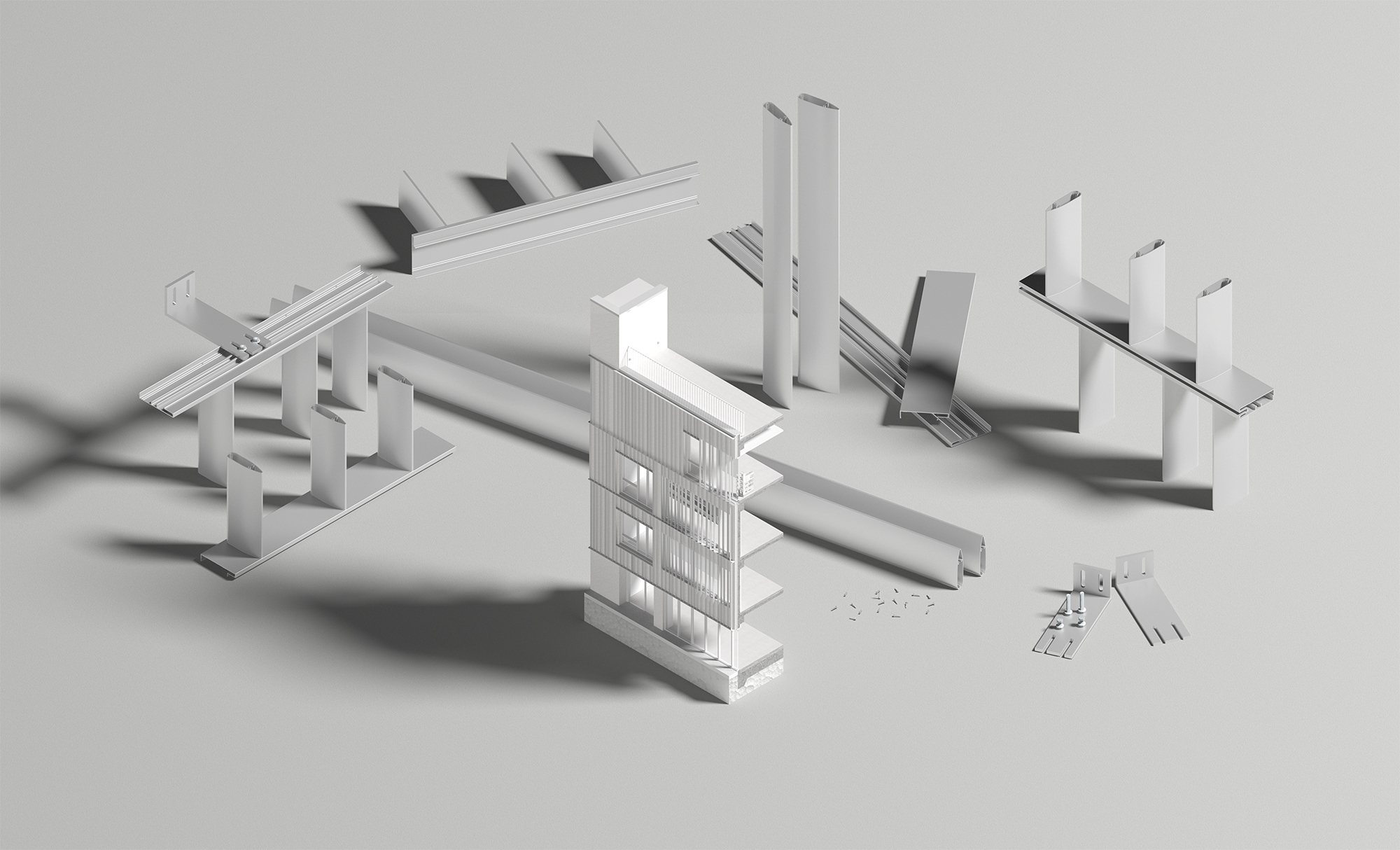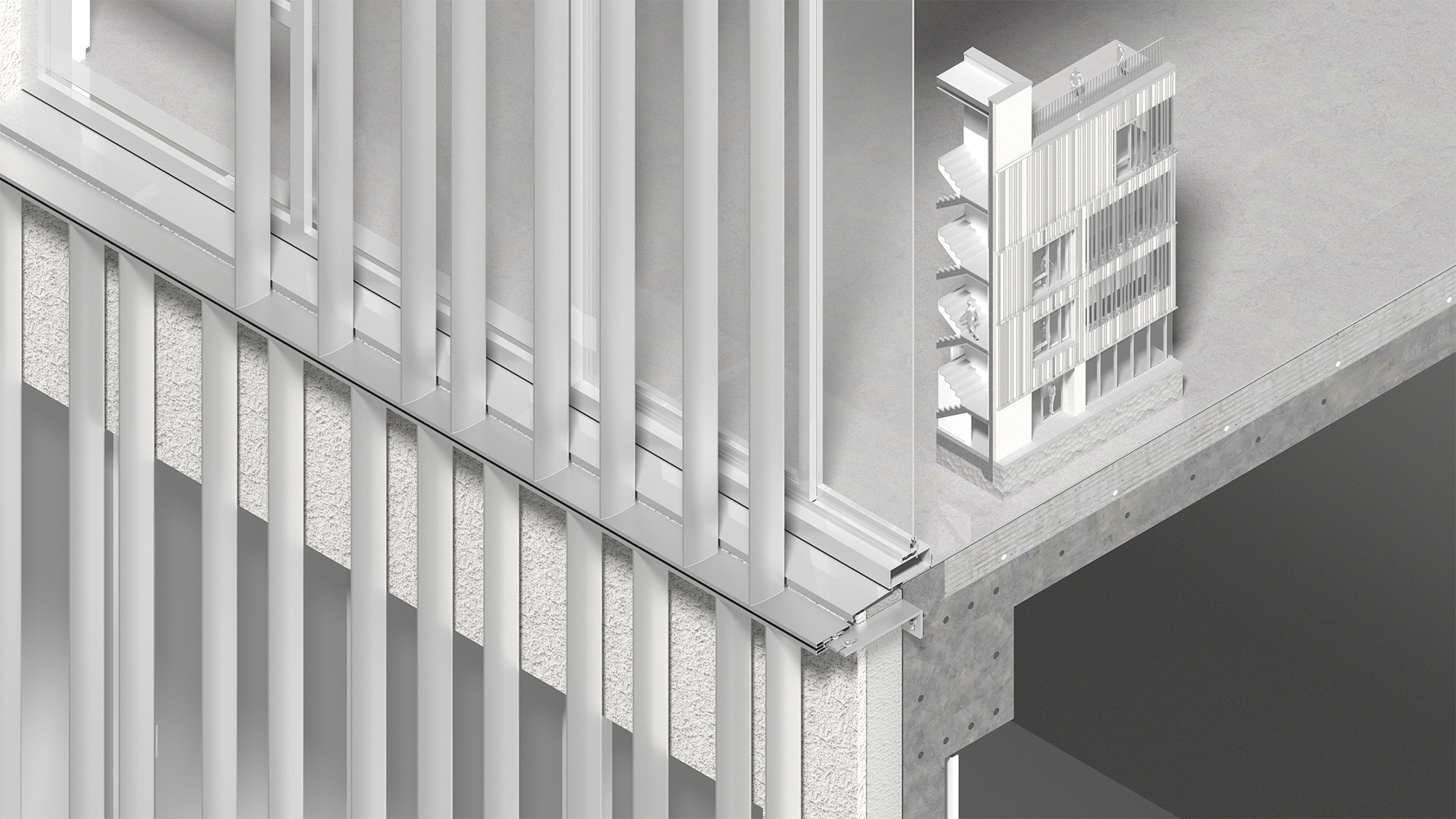 The building performance was enhanced by using high-performing materials and finishes while keeping the details simple. Fumed silica-based insulation and triple-glazed aluminum system windows improved insulation, while the anodized aluminum louvers on the Sto Lotusan paint coating enhanced pollution resistance. Sophisticated simulations were performed during design and construction administration through BIM design, allowing for accurate material quantification and data for VE. Lightweight, prefabricated aluminum louver modules were developed, which were easy to assemble, install, and maintain.

THE BEAUTY OF SCIENCE (2022)

New Headquarter for S Company
Location | Mapo-gu, Seoul, South Korea
Program | Office + Chemistry Lab
Completion | 2022
BCR | 59.34% (60% Required)
FAR | 194.5% (200% Required)
100% BIM Modeled Project


Scope of Design Servies | Architectural Design, Architectural Project Design Consulting, Interior Design, Furniture, Fitting & Equipment, Signage Consulting
Architect of Record | Doall Archtiects
Structural Engineer | Eden Structural Engineering Group
MEP Engineer | Ireh MEC
GC | Hoga Construction Co., Ltd
Electrical Subcontractor | Franklin Electrica Power Co., Ltd